Ohai (:



I'm Megan.



I'm obsessed with Pokemon.
[Especially my favorite, Meganium.]



I've played almost all the different games, but my favorite is definitely Sapphire.
My team back in those days was:









But then I transferred my best Pokes to Leaf Green and that game got stolen. T_T

My team for Heart Gold was: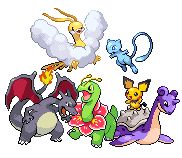 I'm constantly changing up my team because I have so many favorite Pokes that I just have to try to use them all some time or another. <3
I have a surplus of cards but never learned how to play; I collected cause I liked the way they looked.
I think about/play Pokemon far too much Dx

I've finished my HG since I have all 493 Pokemon on there, and a few shinies. I now use it for battling to my hearts content. Feel free to hit up my Ask box if you would like to battle. I don't have any rules, you can use whatever items and any Pokemon. I'm a go-all-out kind of trainer. :P



I have Soul Silver on an emulator because I like to help people achieve their dream Pokemon. I can get any Poke (Bulbasaur to Arceus) at any level, reg or shiny. I can also teach it any TM/HM or move it would have learned in SS. Want a Shiny lvl 100 Pikachu that can Surf and Fly?
I can do that. [:

*Update: I have finally found the cheat files needed to get the Unova pokemon on my Black version, so if you desire any of those pokemon as well, I can now get those. Same things apply; any level, reg or shiny, can learn any TM/HM.
Just ask (:




HG Friend ID (for battling): Coming Soon.


SS Friend ID (for trading): Coming Soon.

Black Friend ID: Coming soon.

I'm currently playing: HG and White. Kinda stuck on Elesa so I'm spending some time to level my Pokes so I have a little more advantage level-wise. Dx

My Pokemon B/W dream team:






OR










[And yes, they're shiny.]
**None of the pictures I post belong to me. Most are reblogs or photo's I came upon through either DeviantArt or various webpages. I apologize to any artist who I upset by posting your work. I just think it's so wonderful so I'm spreading it! <3 **
Just ask.
Submit
Ask